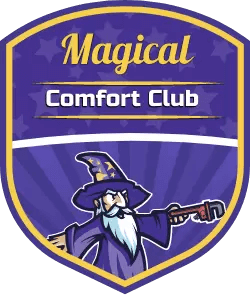 Magical Comfort Club Savings
At times, the height of comfort can seem almost magical. But magical comfort isn't the product of wizardry, it's the product of regular maintenance on your home comfort equipment like your water softener, furnace, or AC. As a member of the club, you have access to exclusive services and discounts that you'll find nowhere else.
Magical Comfort Club
Semi-Annual Precision Tune-Ups
We'll come out up to 2x a year (Once a year per appliance) to inspect, clean and tune-up your equipment. A $238 value.
Priority Service
Club members get priority service when they have a breakdown with booking within 24 hrs.
10% Repair Discount
Club members will receive 10% off on service and repair calls.
No Breakdown Guarantee
If there's a breakdown after a precision tune-up, we'll credit the cost of the tune-up towards that repair.
No Additional After-Hours Fees
Club members do not pay after-hours fees for calls outside of normal business hours.
Loyalty Replacement Program
Receive a credit every year towards a new system.
No Charge Service Calls
Club members do not pay service call/dispatch fees for demand service calls on their HVAC.
"This One's On Me" Exclusive Wizard's Wand
Members can wave the wand and help out their friends or family with a no charge service call, up to 3x a year. If they're having trouble with their home's furnace, boiler or air conditioner. Offer valid on initial service call only and once per household.
Wizard's Tower Healthy Home Check Up
Members benefit from a complementary Indoor Air Quality Check-Up and Water Test performed during the semi-annual tune-up.
Starting at $15/month
Add Each Additional Appliance For Only $5/month
Bring magical comfort to your family at a great price by becoming a member of the Magical Comfort Club with Aido Climate Solutions. What's most important about the Magical Comfort Club is that it entitles you to personalized service from the top-rated company in your area. Call Aido Climate Solutions to join the Magical Comfort Club today!